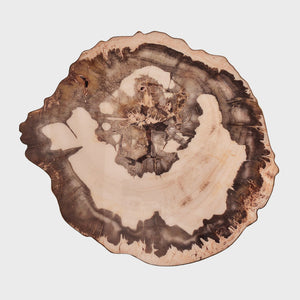 The cork backed Petrified Wood Placemat features beautiful, organic colors and details and inspires a rustic table setting. The meticulous detailing and organic, round shape of these placemats give the illusion of being centuries-old fossilized wood. Finished with an acrylic protective coat, these engaging placemats add refined raw energy to any table.
If interested in this product, please contact us.
Product Details
The placemat is made in medium-density fibreboard, acrylic, and cork.
Product Dimensions
Width: 17.5 in; Length: 15.5 in; Depth: 0.2 in
Weight: 1.2 lb