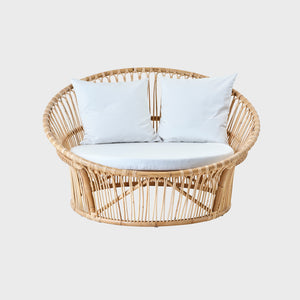 In Love Nest, you sit in a relaxed position and the natural look creates a cozy atmosphere.
The cushions which fit the chair are of high quality and comfort, they come in a variety of shades.
If interested in this product, please contact us.
Product Details
The love nest is made in a sustainable and durable rattan material. Additional cushions are sewn in Sika Design's Danish sewing department.
Product Dimensions
Width: 52.8 in; Depth: 55.8 in; Height: 33.1 in; Seat height: 15.8 in

Weight: 53 lbs
Measurements and weight displayed do not include any selected add-on.