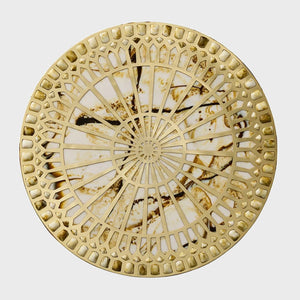 The Konark placemat looks like a piece of medieval jewelry with its grid-like detailing made from laser cut brass and the cabochon-like resin inserts. Perfect for dinners that are more formal, especially when layered with other metallic shades.
If interested in this product, please contact us.
Product Details
The placemat is made in resin and brass on medium-density fibreboard.
Product Dimensions
Width: 15 in; Length: 15 in