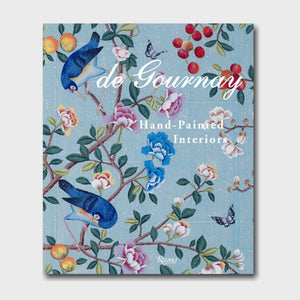 Celebrated for its hand-painted chinoiserie wallpapers, sumptuous patterns of colorful flora and varied birdlife, de Gournay produces additional collections that explore historical themes, such as nineteenth-century French pastoral scenes or exotic Brazilian landscapes bursting with wildlife. De Gournay also crafts more abstracted designs that fit well with modern interiors. Collaborating with renowned tastemakers from across creative industries, de Gournay works with leading interior designers as well as noted trendsetters such as Kate Moss.

This volume showcases de Gournay designs in situ, in beautiful interiors created by top designers in homes from San Francisco and New York to London, Paris, and beyond. The book explores de Gournay interiors in both city and country settings, how to take inspiration from English stately homes, and how custom wallpaper designs are created.
If interested in this product, please contact us.
Product Details
This book is bound with a hardcover.
Product Dimensions
Width: 10 in; Length: 13 in