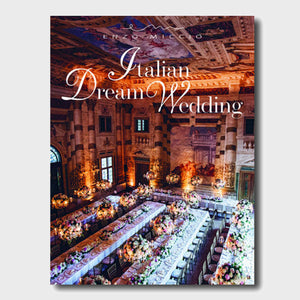 A book that shares the timeless magic of Italian fairy tale weddings. With its stunning vistas and undeniable charm, Italy is the perfect setting for breathtaking weddings. And each region boasts its own culture, traditions, and landscapes: the delicacy of a lake contrasting with the majesty of mountains on the horizon, or the enchantment of the coast, with stone alleys lulled by the sound of the sea. 
Regardless of whether you're planning a traditional or modern ceremony, any Italian wedding brims with elegance and good taste. Sumptuous photos help readers imagine how perfect their Italian-inspired wedding could be.
If interested in this product, please contact us.
Product Details
The book is bound with a hardcover.
Product Dimensions
Width: 9.5 in; Length: 12.5 in